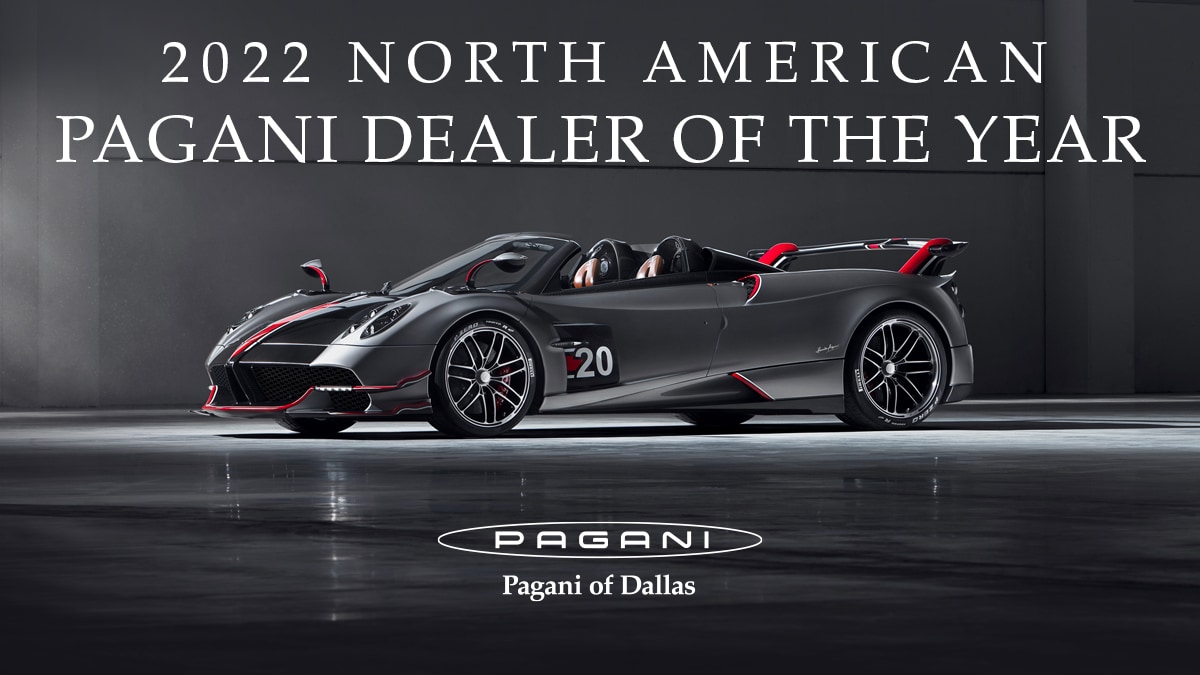 Pagani of Dallas has been named the 2022 North American Pagani Dealer of the Year, recognizing the dealership for its Pagani sales performance, service excellence, and new Pagani showroom.
"We are proud to have Pagani of Dallas as one of our Dealer Partners in North America," said Michael Staskin, CEO, Pagani Automobili America, Inc. "We have watched this driven organization quickly build a new Pagani showroom from the ground up to serve Pagani of Dallas clients with an unparalleled level of excellence. We appreciate the way the entire Pagani of Dallas team represents the Pagani brand in all facets of the business."
Pagani of Dallas has demonstrated consistently high ratings for customer satisfaction, placing it in the top of its class. "We are thankful and truly blessed to have been awarded the 2022 North American Pagani Dealer of the Year Award," said Ken Ambrose, President and COO, Boardwalk Auto Group.  "We have a great team here at Pagani of Dallas with service excellence being our top priority. We also have the best clients and without them, this award would not have been possible!"
"Our Pagani clientele have an extreme attention to detail and the highest expectations which makes the significance of this award even more special for our team," added John Hrad, General Manager, Pagani of Dallas. "We are truly honored to represent Pagani in North America."
About Horacio Pagani S.p.A.
Horacio Pagani S.p.A. is an Italian manufacturer of Hypercars, located in San Cesario sul Panaro in the province of Modena, at the heart of the so-called Motor Valley. Established in 1998 by Horacio Pagani, a native of the small Argentinian town of Casilda, the company rapidly made its name as a constructor of bespoke automobiles using technologically advanced materials such as carbon fiber and titanium. It made its debut in 1999, at the Geneva trade show, with the Zonda, which was followed in 2011 by the Huayra. In 2022 it wrote a new chapter in its story when it presented the Pagani Utopia. A devotee of Leonardo Da Vinci, Horacio Pagani takes Leonardo's concept of "art and science" as the inspiring principle of the philosophy behind each one of his company's creations, which combines aesthetics and mechanics, form and function, craftsmanship and technological know-how to create unique Hypercars in the Atelier in San Cesario. Besides building dream automobiles, Pagani offers clients the "Pagani Officina" program: a series of special authenticity certification, restoration and customization services for their cars. The company has more than 170 employees, 20 dealers around the world and sales subsidiaries in the United States and Hong Kong to build close ties with international clients. For more information visit www.pagani.com.
About Pagani of Dallas
Pagani of Dallas is one of six Pagani dealerships in North America, which makes Dallas one of the few places where people can purchase and service one of the world's most exclusive cars. Inside guests are treated to materials that evoke the bespoke and unique quality of the Pagani Atelier in Italy, such as marble and typical Modenese bricks. Each architectural and stylistic detail of the showroom highlights the perfect combination of art and science, tradition and innovation.  Along with the showroom is a service facility in which clients enjoy the confidence of knowing that their ultra-rare, Pagani is in the hands of certified experts. Additionally, Pagani of Dallas has a custom display of official Pagani merchandise that is available for purchase.
With the opening of the Pagani of Dallas showroom in 2022, our clients' Pagani experience has been elevated. Pagani of Dallas is part of Boardwalk Auto Group, one of the premier auto groups in North America. Pagani of Dallas is located at 601 S. Central Expressway in Richardson, Texas.